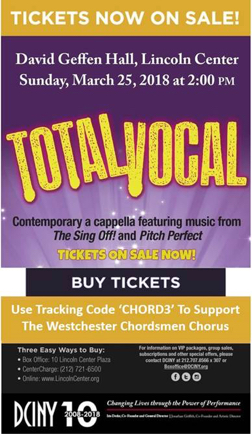 The Westchester Chordsmen is thrilled to announce we will be participating in Total Vocal on March 25, 2018 at Lincoln Center in New York City. It will be a presentation celebrating Contemporary A Cappella with choirs and individual singers from all over the globe. Deke Sharon, granddaddy of the modern a cappella scene, is the conductor and creative director of this amazing show, which will feature Distinguished Concerts Singers International and Guest Artists from 'Pitch Perfect', Broadway and 'The Sing-Off'.
The Chordsmen will be on the program along with fellow barbershop chapter, Voices of Gotham. Other participating ensembles will include: Voice to Voice, No Treble, Psycho-Chor der FSU Jena, Northlake Academy of Music Advanced Choir,  Syncapella & Raised In Song, Solihull Pop Chorus, Rock Vox Choir, Them A Cappella, Wells High School Select A Cappella Chorus, YVR POP CHOIR, My Pop Choir, Rowdy Rhythm, Lions Gate Chorus, Evolve, NUS Resonance, and Vocal Confluence—over 300 singers in all!
Total Vocal is presented by Distinguished Concerts International New York (DCINY). If you purchase tickets, be sure to use the code CHORD3 at checkout to support the Chordsmen.
TO PURCHASE INDIVIDUAL TICKETS
(On Sale Now to the General Public)
IN PERSON: David Geffen Hall, Lincoln Center Box Office,

10 Lincoln Center Plaza


M-Sat 11 AM-6 PM, Sun 12 PM-6 PM.
PHONE: CarnegieCharge – 212-721-6500, Daily 8 AM-8 PM
CarnegieCharge sells tickets up to an event's official start time.
FREQUENTLY ASKED TICKETING QUESTIONS:
How do I buy tickets?
Single tickets are currently on sale online, over the phone and in person via Lincoln Center. Call CenterCharge at 212-721-6500 or visit the Box Office Located at 63rd Street and Broadway to purchase in person.
Can I pick my own seats?
Yes! Tickets may be selected from the online module via LincolnCenter.org. Group tickets are selected by DCINY and will be given top priority and seating choice.
Can I purchase more than 8 tickets together?
No, Lincoln Center only allows single ticket purchases up to eight tickets. For orders larger than eight please contact DCINY group sales offices at boxoffice@DCINY.org or call 212.707.8566 x330
Can I return my ticket for a refund?
Unfortunately, Lincoln Center does not issue any refunds or offer exchanges. You may call DCINY with any other questions related to this topic.
Can I bring my child into the hall with me without a ticket?
Carnegie Hall and the New York Fire Department require all patrons (regardless of age) to have a ticket. If a child is to sit on the lap of a patron, that child must have a ticket to gain access into the hall. Please contact DCINY with any further questions related to this topic.
What is the dress code for this concert?
DCINY recommends audience members follow the "corporate casual"  dress code, anything you might wear in an office or to a nice dinner– avoid jeans, shorts, open toed shoes or frayed clothing.
REMEMBER PLEASE: Be sure to mention this Tracking Code when ordering: "CHORD3"