Quartets—The Lifeblood of a Barbershop Chorus
Everyone in our chorus is encouraged to participate in a quartet. There is nothing like the feeling of singing with only four voices, and no matter what your ability, we will help you with this thrilling skill!
Here are some of our more experienced groups…
29 Seconds
Dan Rendich, Tenor
Rob Scholl, Lead
Scott Kruse, Bari
Erik Contzius, Bass
Quartet Bio
The group, 29 Seconds, all began as a way to promote the Chordsmen. We started making videos on YouTube of short snippets of our repertoire, worried about copyright issues. The name stuck. It has NOTHING to do with ANYTHING other than that. Are we clear? Good–let's make some good music!
Tenor, Dan Rendich, is known for his "on again/off again" facial hair. Lead, Rob Scholl, has an amazing supply of vegetarian "riblets" in his freezer, awesome for late night rehearsals. Bari, Scott Kruse, is best known for his practice trax and beat boxing. Bass, Erik Contzius, would like to stay in tune!
And here's one of our famous video appearances on YouTube! Enjoy!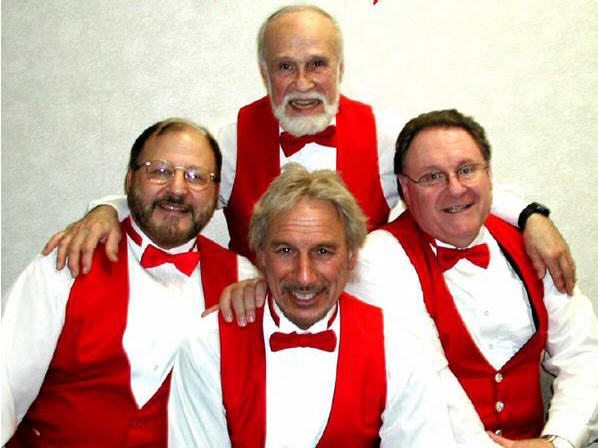 Freshmen Again
Tenor: Bill Kruse
Lead: Steve Berkwits
Bari: Stash Rossi
Bass: Marty Taylor
Quartet Bio
Freshmen Again! Is the latest in a long line of quartets that have emerged from the ranks of The Westchester Chordsmen. The quartet has performed with Swing Bands in the Westchester and Fairfield County area, street fairs, singing contests, and industrial shows. Freshmen Again! is not your conventional barbershop quartet. The group recreates the great jazz sounds of The Four Freshmen, popular in the 50′ and 60's with classics like Route 66, Graduation Day, and It's A Blue World.
Bill Kruse – A 43 year member of SPEBSQSA Inc, started his Barbershop career in Madison, Wisconsin with the Capitol Chordsmen Chorus. He has sung with the "Sharberboppers," "Upper Johnnies," "Three O'Clock Four," "Broadway Joes," and "Cap'n Billy's Whizbang" quartets. In the Freshmen Again quartet, he enjoys singing melody in the highest voice part.
Steve Berkwits – Newest member of the group, sings the 2nd voice. He recently returned to singing as a member of the Westchester Chordsmen. He has done Cantorial work, has sung in high school, college, and church choirs, and performed in many amateur musical and operetta productions. In the Army in Europe, Steve won the Army Entertainment Contest, and sang in the chorus of the Frankfurt Opera. Steve has 3 grown children, and works in the computer field as a salesman. He is thrilled to have returned to the hobby he likes best of all… singing!
Stash Rossi – (the 3rd voice) Is Associate Director of the Westchester Chordsmen, and Director of the Golden Apple Chorus, a Sweet Adelines women's chorus in Hawthorne, NY. Stash is the former Director of Music in the Mount Pleasant School District in Thornwood, NY. After 33 years of teaching, he is enjoying the fun and fellowship of making music in the Barbershop world.
Marty Taylor – sings the lowest voice. Marty taught Physical Education for 34 years in the NYC schools, and enjoys his hobbies of singing, playing the recorder, and sculpture.
Contact: Stash Rossi – 914-232-2746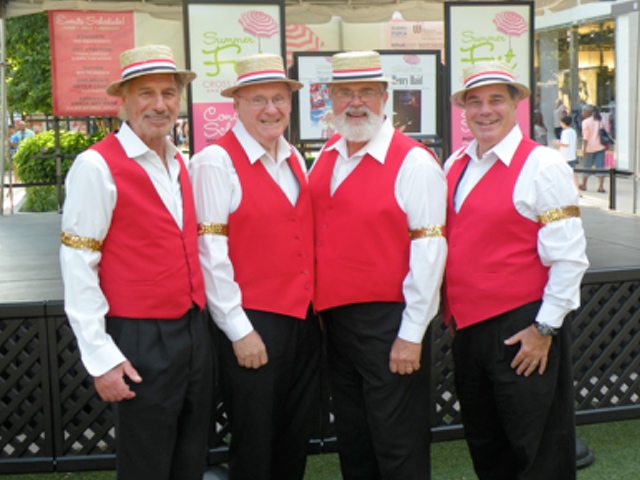 Heartfelt
Tenor: Marty Taylor
Lead: Bill Kruse
Bari: Len Sklerov
Bass: Glen Allen
Quartet Bio
Marty Taylor–Marty is a retired physical education teacher. He has been inducted into his collegiate athletic hall of fame. Years later, he changed directions and now sings with several choral groups and quartets. Accapella harmony is his love with venues from jazz to barbershop harmony to classical music.
Bill Kruse–Bill has been performing with a cappella groups for 50 years. He appears on two record albums with Leon Redbone and Joe Piscopo. His first love is barbershop quartet harmony with a broadway flavor. He has been the President of the Westchester Chordsmen several times and is now its music vice president.
Glen Allen–Glen sings with the Westchester Chordsmen and the choir of the Reformed Church of Tarrytown. He has been singing since the sixth grade with various school groups including: the Albany Statesmen Glee Club at Albany State University. He has performed in the White House, Carnege Hall, Italy and China.  Currently retired, Glenn is always willing to join you in song.
Len Sklerov–Len currently sings as  a member of the Westchester Chordsmen and Chorus of the Tappan Zee. He practices law in his spare time, he is happily married to his wife Sue and is the proud father of six children and several grandchildren.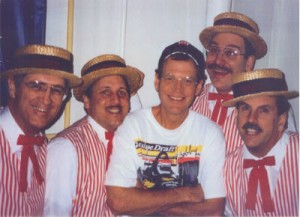 Letterman Quartet
Tenor: Tom LaMotte
Lead: Bob Seda
Bari: Steve Delehanty
Bass: Al Fennell
Quartet Bio
This quartet was formed at a moment's notice to appear on 'Late Night with David Letterman' back in 1995 to sing 'The Top Ten List'. The producers of the show must have liked what they saw. The quartet has been invited back five times (on the show they are called the Westchesteraires). They have also had two appearances on ABC's "The View" as well as having been seen numerous times on Westchester's cable Channel 12. Because of their appearances on national television, they were mentioned in Harmonizer Magazine's cover story as one of Our Society's most influential quartets.
Contact: Tom LaMotte – 914-234-3228
Our Favorite Pasttime
Tenor: Al Garfield
Lead: Irv Flamer
Bari: Brian Horwath
Bass: Nick Hodnett
Quartet Bio
The name of this quartet is a true reflection of the pleasure they bring to, and get from, their singing (It is certainly more descriptive than their former name, The Sol G. Ferndock Memorial Quartet.) They have competed in the Northern (now Metro) Division and at the District level, and have been Division medallists several times. Although they have entertained many audiences, they remember most fondly those of the popular Artists and Lyricists series with Sammy Kahn at the 92° Street "Y" in New York City, and a performance with the Golden Chordsmen at Lincoln Center. Coming together from Rockland. Nassau, Westchester and Queens Counties these Westchester Chordsmen are…
Tenor Al Garfield. who is a former Westchester Chordsmen President and Music Vice President.
Lead Irv Flamer has served the Westchester Chordsmen as Program Vice President, Board Member and Stage Presence Coach;
Bass Nick Hodnett is a former SPEBSQSA Music Interpretation Judge and a 39-year member of the Society who has served the Westchester Chapter in various capacities including that of Show Chairman
Baritone Brian Horwath, who sings with both the Westchester Chordsmen and the Big Apple Chorus. He serves Westchester as an assistant director, music coach and Tag Aficionado.
Contact: Al Garfield – 845-354-1644